Experience Better Banking with Apple Pay™
Apple Pay for your Katahdin Trust personal and business debit card is now available! It's an easy, secure and private way to pay.
Use your Katahdin Trust Visa® debit card with Apple Pay to make convenient and secure payments at hundreds of thousands of merchants nationwide.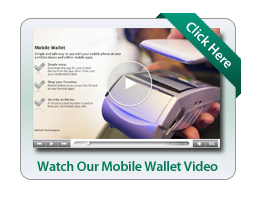 Convenient
Keep your wallet at home and use your iPhone 6® or newer or Apple Watch™ to streamline your purchases with a single touch. Paying in stores has never been easier. To learn more about Apple Pay, visit Apple.com/Apple-Pay.
Easy
1. Open the Wallet app on your iPhone and tap the plus symbol next to the Apple Pay logo in the upper right hand corner.
2. Follow the onscreen steps to add your Katahdin Trust Visa® Debit Card.
3. After we have verified your card, you may begin using Apple Pay. Simply look for one of these symbols at checkout.
4. To pay with Apple Pay, hold your iPhone near the reader and pay with a single touch of your finger using Touch ID™. With your Apple Watch, just double click the side button.
Secure
With Apple Pay, your information is secure. Instead of using your actual debit card number, a unique device-only account number is assigned, encrypted and securely stored.
And when you make a purchase, the device-only account number alongside a transaction-specific dynamic security code is used to process your payment. So your actual debit card number is never shared by Apple with merchants or transmitted with payment.
Plus, enjoy the same security features you are used to when using your Katahdin Trust® debit card.
Get simple set up directions and start using Apply Pay with your Katahdin Trust Visa® debit card today!
If you need help getting started or have any questions about Apple Pay, please email info@katahdintrust.com, call 1-855-331-3221, or click on the chat icon below.
Click here for Frequently Asked Questions.
Apple, the Apple logo, and iPhone are trademarks of Apple Inc., registered in the U.S. and other countries.
Apple Pay and Touch ID are trademarks of Apple Inc.
There is no charge from Katahdin Trust, but message and data rates may apply from your wireless carrier. View our privacy policy.