VISA® Debit Card
It's the card that works like a check... only better. Use it wherever Visa debit cards are accepted, around town and around the world.
Free with any personal checking account.
ATM Fee Refund - Enjoy more than 200 surcharge-free Maine Cash Access ATMs. Simply look for the Maine Cash Access logo or visit MaineCash.com to find a surcharge-free ATM near you. For all other ATMs, automatically receive up to $10 back in foreign ATM fees after fifteen or more debit card purchases have posted to your account in a statement period.
Faster and easier than writing checks.
Purchases automatically withdrawn from your primary checking account.
Link your Katahdin checking and savings accounts to one card.
A detailed description of every card purchase appears on your monthly checking account statement and online.
Change your PIN at any time by selecting "Change PIN" at any Katahdin Trust ATM or call 1-800-992-3808.
Earn points every time you use your card for signature-based (non-PIN) purchases with our Adventure Checking Points account.
EMV enabled with a built-in security chip to provide greater protection against fraud when used at chip-activated registers. Click here to learn more.
Take control of your debit card with CardValet®. This mobile app allows you to manage your finances with your smartphone by instantly controlling how, when and where your debit cards are used. Click here to learn more.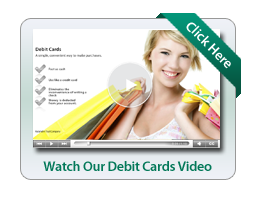 Maine Cash Access
We are proud to be a member of the Maine Cash Access ATM alliance. That means you can enjoy surcharge-free ATM transactions at any of the Maine Community Banks participating with over 200 statewide ATMs. View participating banks and ATM locations.
Get your new debit card instantly!
Visit any Katahdin Trust Branch to request a temporary debit card for instant access to your account until you receive your permanent card in the mail.
For newly opened accounts and lost, stolen, or damaged replacement debit cards.
Is your card missing, stolen or damaged?
Please report a lost or stolen card immediately by calling our local Electronic Banking Department located at the Houlton Operations Center at (207) 521-0455, ext. 12111 or Toll-Free at 1-855-331-3221; after normal business hours call 1-800-472-3272. If your card is damaged, please visit your local branch to order a replacement debit card. Additional fees may apply.
A Katahdin Trust Company personal checking account is required to obtain a Visa Debit Card.