VISA® Debit Card
It's the card that works like a check... only better. Use it wherever Visa debit cards are accepted, around town and around the world.
Free with any personal checking account.
ATM Fee Refund - Enjoy more than 200 surcharge-free Maine Cash Access ATMs. Simply look for the Maine Cash Access logo or visit MaineCash.com to find a surcharge-free ATM near you. For all other ATMs, automatically receive up to $10 back in foreign ATM fees after fifteen or more debit card purchases have posted to your account in a statement period.
Faster and easier than writing checks.
Purchases automatically withdrawn from your primary checking account.
Link your Katahdin checking and savings accounts to one card.
A detailed description of every card purchase appears on your monthly checking account statement and online.
Change your PIN at any time by selecting "Change PIN" at any Katahdin Trust ATM or call 1-800-992-3808.
Earn points every time you use your card for signature-based (non-PIN) purchases with our Adventure Checking Points account.
EMV enabled with a built-in security chip to provide greater protection against fraud when used at chip-activated registers. Click here to learn more.
Take control of your debit card with CardValet®. This mobile app allows you to manage your finances with your smartphone by instantly controlling how, when and where your debit cards are used. Click here to learn more.

Checkout with a wave of your mobile device using Apple Pay®, Samsung Pay® or Google Pay®. By linking your Katahdin Trust debit card to one of these digital payment options you can shop in-store, in-app or online from the convenience of your mobile device.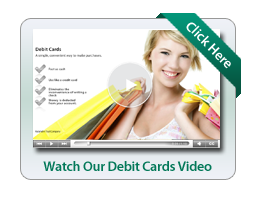 Maine Cash Access
We are proud to be a member of the Maine Cash Access ATM alliance. That means you can enjoy surcharge-free ATM transactions at any of the Maine Community Banks participating with over 200 statewide ATMs. View participating banks and ATM locations.
Debit Card Fraud Monitoring
As part of our commitment to protecting your financial information and to help reduce card-related fraud, we monitor your debit card usage for any unusual activity. You will receive an automated phone call if unusual activity is detected on your card. If you cannot be reached by phone and transactions are being questioned, your card may be temporarily blocked for your protection. If this has happened, please call 1-855-331-3221 Mon-Fri 8am-5pm, option 3 or after hours call 1-800-472-3272, option 2.
You can manage how and where your debit card is used and receive alerts with the CardValet® App. You can even temporarily turn "off" your debit card the moment you realize your card is lost, stolen or if you suspect fraud. When you find your card, you can simply turn your card back "on".
Traveling with your Debit Card
If you plan on traveling out of your normal transaction area, to a foreign country or making a foreign transaction online, please contact our electronic banking department at 1-855-331-3221 so we can update your account. Having your updated contact information will help ensure your debit card is not temporarily suspended due to unusual patterns. We also find that it's best to carry more than one form of payment when traveling, such as cash or credit card, in the event that you happen to lose or damage your card.
Replace your Debit Card
Get your new debit card instantly! If your debit card has been lost, stolen, or damaged and you need to order a replacement, please call us at 1-855-331-3221 or contact your local branch. You can request a temporary debit card for instant access to your account until you receive your permanent card in the mail. Additional fees may apply.
Change your Debit Card PIN
1-800-992-3808 or select 'Change PIN' at any Katahdin Trust ATM.
Is your card missing, stolen or declined?
If you need to report a lost or stolen card, if you see a transaction on your account you didn't make, or if your card was declined although you have sufficient funds please give us a call right away.
1-855-331-3221 or (207) 521-3221 Mon-Fri 8am-5pm (ET), option 3
1-800-472-3272 after hours, option 2
Already have the CardValet® App? Temporarily turn "off" your debit card the moment you realize your card is lost or stolen. When you find your card, you can simply turn your card back "on".
A Katahdin Trust Company personal checking account is required to obtain a Visa Debit Card.