You shop. You earn. You choose. --- It's that simple!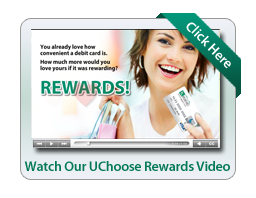 With UChoose Rewards® you choose where to shop and what to get for all the points you earn.
Most rewards programs have limited options on where to shop, and it takes forever for your points to accumulate.
UChoose Rewards changes all of that.
Watch your points add up each and every time you shop with your Katahdin Trust Company VISA® Debit Card and select 'credit'. Plus, shop at participating retailers, and watch your points add up quicker.
What is UChoose Rewards?
This FREE rewards program was designed for Katahdin Trust Company Debit Card holders. With UChoose Rewards you can shop like you normally would and watch the rewards add up. It's a great way to reward yourself for the everyday purchases you need to make. Whether it's at the gas station, grocery store, drug store, online, or anywhere else you need to make a purchase. Take all the points you've earned, and choose from millions of items at www.uchooserewards.com – from brand name products to travel excursions, event tickets, and access to unique activities, even cash.
How many reward points do I earn?
Earn 1 point for every $2 each time you use your Katahdin Trust Company Debit Card for signature-based purchases, no matter where you shop.  Plus, earn additional points by shopping at participating retailers in-store or online at www.uchooserewards.com
Remember to Swipe & Sign. When shopping in-store, select 'credit' and sign for your purchase.
When can I start redeeming my reward points at www.uchooserewards.com?
You can redeem your points for catalog items as soon as they are available! You must accumulate 0 points before you can redeem your points for catalog items; and 2,500 points before you can redeem your points for cash. Please note that it can take up to sixty days for your points to be credited to your account.
Can I share points with other accounts?
Yes, share points with your family members! All cards within an account automatically earn points together once registered. In addition, if you have multiple accounts with Katahdin Trust Company, you can link them together to earn rewards faster by clicking on the Preferences tab within uchooserewards.com.
Have a Katahdin Trust Company Business Debit Card? You can combine those points too!
When do my points expire?
Points will expire 3 years from the end of the month in which they were posted. Expiring points will be displayed within uchooserewards.com 90 days prior to expiration.
How do I get started?
You must register your debit card first at www.uchooserewards.com in order to start earning reward points. Just click on the Register link under New to UChoose Rewards and follow the simple on-screen instructions.
Have additional questions? Call us at 1-855-331-3221, email info@katahdintrust.com.