Business Banking Tools

A simple way to help manage your business finances anytime, anywhere from your desk or on the go.
Business Online Banking
If you're like most business owners, you work outside a traditional 9-to-5 schedule. Manage your business finances on your schedule when it makes the most sense for you with Business Online Banking. You'll work simply, smartly, and securely with online tools that work for you today, and can evolve to support you tomorrow, and well into the future.
Expedite transfers: Set up and send ACH payments and Wire Transfers with ease*
See your financial picture in one place, 24/7
Set different access levels for employees
Bill Pay
Simplify your business and pay your bills with the click of a button.
Pay 20 bills per month absolutely free; thereafter it's only $0.50 per bill
Save time - no checks to write, no stamps to purchase, no envelopes to address and mail
Use multiple Katahdin business checking accounts to pay your bills
Set up an automatic payment schedule for recurring payments
Use the bill presentment feature to receive and view your bills online
Manage alerts for bill arrivals, due dates, and upcoming payments
Helpful hint: When setting up your bill payment payees, have an old bill handy or the payee's full name, address, and account number, as well as your checkbook.
Bill Pay Support
If you have a question or dispute about a payment that was sent but not received, please call 1-855-867-0015 between the hours of 7:00 am - 1:00 am, 7 days a week.
Real-Time Account Alerts
With account alerts, you know the moment something important happens on your business accounts. It's easy and it's free to online banking users.
Choose from dozens of account activity alerts and receive notifications via email, text, or within business online banking, including:
When a purchase is made with your business debit card
When a check clears your business account
When your business account balance goes below your set threshold
To set up your text and email alerts, simply log in to Business Online Banking and click Manage Alerts on the homepage. Enroll and choose Alert Options to create and edit your alert preferences. You can add your email address and/or cell phone number under Contact Options.
Must be enrolled in Katahdin Trust's Business Online Banking. Message and data rates may apply from your wireless carrier.
Positive Pay
Protect your business against check fraud.
Gain peace of mind and added security by reducing your exposure to check fraud. Each time your company issues a check, it is exposed to possible fraudulent check activity. From the time a check leaves your desk to the time it posts to your account, any number of things can happen. It may be lost, stolen, altered, or forged. You can help manage these risks, by enrolling in Positive Pay.
With Positive Pay, we will only pay on the checks you have authorized. Provide us with information about the checks you write, such as check number and dollar amount. We will compare that list against each check that posts to your account. If we find any unauthorized or suspicious checks that don't match, we will notify you to approve or return the item in question.
No monthly fee
Tighten security by monitoring all of your check clearing activity
Greater convenience as all unauthorized checks or "suspects" received by Katahdin are brought to your attention
Improve cash flow forecasting due to reduced likelihood of fraud
Want to know more? Please take a moment to browse our guide or watch our Tutorial Video featuring Positive Pay.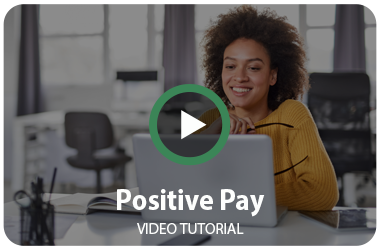 For more information and to request the Positive Pay service, contact your local branch or e-mail info@katahdintrust.com.
If held items are not approved or denied by the stated Positive Pay cut-off time, an Account Research fee may apply as listed in our Fees for General Services brochure.
*Please refer to our Fees for General Services brochure for the current fees for additional business online banking services such as ACH, wires, or bill pay.
eCheck Deposit
Depositing checks has never been easier. It's more efficient and flexible by enabling your business to make deposits without even having to leave your office. Checks are electronically scanned at your business and sent safely and securely to Katahdin for deposit.
Make deposits 24 hours a day, 7 days a week
Make daily deposits up to 6:00 pm ET for same-day posting
View deposited check images
Generate deposit reports
Fewer trips to the Bank means staff time can be used more productively for your business
Only $50 per month
$25 per month for each additional location
Want to know more? Watch the eCheck demo video for details.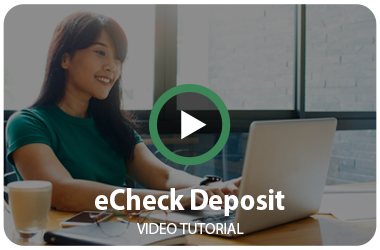 For more information and to request the eCheck Deposit service, contact your local branch or email info@katahdintrust.com.
Subject to credit approval. Equipment restrictions may apply. Please refer to our Fees for General Services brochure for the current fees for these additional services.
Business Debit/Credit Cards
Choose the right business card to meet your growing business needs.
Business Mobile Banking
Conveniently monitor your accounts using your mobile phone or tablet.
Cash Management Services
If time equals money, cash management means more of both.
Business Online Banking Enrollment
Important Disclaimer: This is NOT a secured e-mail transmission. Please do not send personal/financial information via this method.
A Katahdin Trust business checking account is required to enroll in Business Online Banking. Please refer to our Fees for General Services brochure for the current fees for additional services.